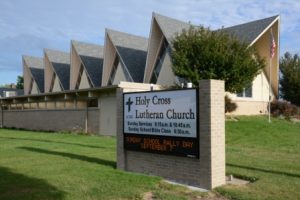 Holy Cross Lutheran Church – Organized January 7, 1951
Rev. Dr. Wilfred L. Karsten, Pastor
SUNDAY SCHEDULE
8:15 & 10:45 a.m. Divine Service/9:30 a.m. Sunday School, Bible Class
                                                 8:15 a.m. Communion 1st & 3rd Sundays                                                                                   10:45 a.m. Communion  2nd & 4th Sundays                                                     Communion at both services on the 5th Sunday
                 WEDNESDAY EVENING ADVENT SERVICES – Nov. 30, Dec. 7 and 14                 Supper 5-6:15; Preservice Hymn Singing -6:45; Evening Prayer – 7:00
Christmas Eve Candlelight Services – 5:00 and 7:00 PM
Christmas Day Divine Service with Holy Communion – 9:00 AM
All of our services use hymns and liturgies from the Lutheran Service Book.
Holy Cross Lutheran Church is a member of The Lutheran Church – Missouri Synod.
Holy Cross is a member of the Issues Etc. 300.

Holy Cross Lutheran supports the Work of Missionary Rev. Roger James and Lanka Hope Media in bringing the Gospel of Jesus Christ to the people of Sri Lanka. We also support the work of Dr. Martin & Marie Dicke in Papua New Guinea.